Our Thriving Workplace
Evolve Housing has won 30 industry awards over the last two years, and is a designated Tier 1 Community Housing Provider. Our significant experience in property and tenancy management has earned us a well-deserved reputation for social excellence.
We provide innovative housing services and solutions to those in need, and develop partnerships that provide positive social outcomes for individuals and their communities.
Why work with us?
We are proud of our workforce, and recognise that the quality, responsiveness and professionalism of our staff is directly linked to achieving our strategic goals. We are committed to providing a supportive and rewarding working environment, which includes learning and development opportunities.
By investing in professional development for our people we extend and broaden the scope of our professional capabilities; provide opportunities to acquire, practise and adopt new knowledge; and enhance individual, group and organisational learning and capabilities.
We currently own or manage more than 4,200 social and affordable properties, housing more than 11,200 people, and invite you to become part of our diverse, inclusive and disability-friendly workplace.
Inspiration
We approach opportunities and challenges with creativity and enthusiasm. We encourage those around us to imagine, learn, innovate and to do things better.
Honesty & Integrity
We are honest, fair and ethical in all interactions. We do the right things for the right reasons all the time.
Empathy
We are aware of and sensitive to the feelings and perspectives of others and use that understanding to guide our actions.
Accountability
We act with professionalism and take responsibility for our decisions and actions.
Respect
We treat others how we would like to be treated. We value individuality and diversity.
Employee Story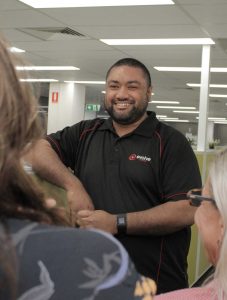 Mat Toailoa joined Evolve in 2013 as a Housing Manager. He manages 170 social and affordable housing tenancies, successfully negotiating the complexities and interconnections between the two types of housing.
With the support of the leadership team Mat rose through the ranks, winning PowerHousing Australia's Rising Star Award in 2017. This award recognises a young up-and-coming team member who demonstrates leadership qualities, enhances tenant outcomes and has developed positive relationships within the workplace. Speaking about the Award, Mat said it was a great privilege and exciting opportunity to be named as the 2017 Rising Star.
Danielle Wilcock, Senior Manager, People and Capability, said that Evolve is always looking for training and development opportunities for staff. "We know we need to build our internal capacity and capability to be able to realise our strategic goals, and are proud to invest in quality people, including Mat", she said.
"Mat has successfully completed several training courses during his time at Evolve, including accredited units from the Certificate in Social Housing. These courses have developed and enhanced his interpersonal and leadership abilities," added Danielle. "Mat has been given a challenging portfolio and received mentoring from more senior staff, leading to his ability to act as a Team Leader during periods of leave."
Mat explains that he had aspired to become a leader since working at Evolve. "Thankfully my colleagues and managers have supported my progress, providing me with opportunities to attend training days, complete courses, and step up into leadership positions," said Mat. "Being able to learn new skills, and improving those I already have, will ultimately lead to better outcomes for our tenants."
Joy Sneesby, Operations Manager, has directly managed Mat since 2013 and said he has contributed a great deal to the organisation. "We are proud to see how Mat has developed as an employee and a leader," she said. "Mat has held several portfolios during his time at Evolve, demonstrating his agility and capacity. Mat's colleagues, including his leaders, look to him for guidance around issues, particularly in but not limited to the areas where Mat has developed expertise. He can be relied upon for his dedication to get the job done with the best outcomes for tenants and Evolve."
Evolve is proud to support our staff as they grow and develop and we look forward to supporting Mat to continue to achieve every professional success.
Benefits
Salary Packaging
Conditions of Employment
Career and Professional Development
Staff Health and Well-being
Salary Packaging
Evolve provides all employees with the option to access Salary Sacrifice arrangements as a way to increase your take home pay. Up to $18,550 of your expenses can be salary packaged, and your mortgage, loans, rent, credit card, health insurance or school fees could all be included.
Conditions of Employment
35 hour work week
Flexible working hours/arrangements
Birthday Leave – enjoy a day off for your birthday every year.
Volunteer Leave – take a day every year to give back to the community through volunteering.
Purchased Annual Leave – purchase additional leave to help manage work and personal commitments.
Annual Shut-down – we have a company-wide shut down over the Christmas/New Year Period.
Career and Professional Development
We encourage our staff to continually develop their skills and knowledge and provide training opportunities, including substantial online training on a variety of areas which is relevant to many work places. We understand that by investing in our people, we extend and broaden the professional capacity of both the individual and Evolve Housing.
Staff Health and Well-being
Annual Flu Vaccination
Employee Assistance Program – independent, confidential and free counselling service for all staff
Active Social Club
Evolve Housing Red25 Blood Donor Program
Training
We recognise that we will only achieve our strategic goals by investing in our staff to build internal capacity and capability. Our staff have access to a range of learning and development opportunities including attendance at conferences, participation in working groups/committees, secondments, in-house and external training courses, and access to online learning. Staff are encouraged to explore learning and development opportunities with their manager throughout the year.
92%
of staff have completed online learning
4%
of our staff identify as Aboriginal or Torres Strait Islander
22%
of staff opt for flexible working arrangements
50%
of management roles are held by women
35
new field safety devices to keep our staff safe
16
languages spoken by staff
88%
are tertiary educated and above
If you are interested in working with a dynamic, supportive organisation, please submit your expression of interest below and we will respond to you as soon as possible.
Mary – Access and Allocations
Allana – Business Support