Construction complete on new affordable housing property in Newcastle CBD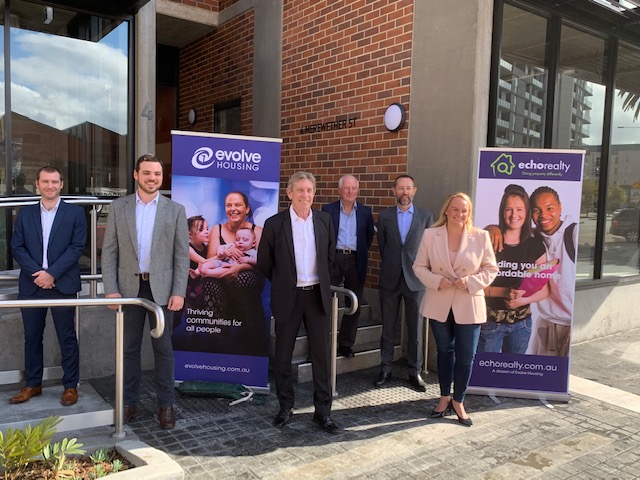 Construction has been completed on a new affordable housing complex in the Newcastle CBD, which will soon be available to rent at below market rates for eligible applicants on low-to-moderate incomes.
The property, located at 4 Merewether Street Newcastle, includes 30 residential apartments dedicated for affordable rental housing, able to accommodate up to 78 people.
Local construction company GWH Build has finished construction on the property on schedule and the property is now almost ready to be tenanted.
The land was purchased from the Hunter and Central Coast Development Corporation (HCCDC) in February 2019, after Evolve Housing won the tender to deliver the project in 2018, with development consent being granted by the City of Newcastle in December 2018.
Evolve Housing, one of Australia's largest community housing providers, will manage the property on an ongoing basis and has already begun the process of finding tenants.
The complex includes   1, 2 and 3-bedroom apartments, with four being set aside for Specialist Disability Accommodation.
Apartments will be offered at a rate that is 25% below the normal market rent that would be charged for an equivalent property.
Evolve Housing CEO Lyall Gorman said that he was excited and delighted that the construction was completed on time, within budget and to a high quality.
"These apartments are modern, well-designed and of a very high quality, and I have no doubt that they will make wonderful homes for the future tenants who live here. They are an absolute testament to the outstanding work of our Builder partner, GWH" he said.
"With so many people impacted financially by the coronavirus crisis over the past few months, affordable housing has never been more needed, and we hope that these properties will provide some much-needed relief and stability for people in need in Newcastle."
"It has been an absolute pleasure partnering with Evolve Housing to construct this wonderful affordable housing project," said GWH Director Jonathan Craig.
"This has been a fantastic opportunity for GWH to help provide such facilities in our hometown of Newcastle."
Newcastle Lord Mayor Nuatali Nelmes said developments that provide a greater range of housing options for people on varying incomes are important to building strong local communities.
"Our city must prioritise affordable housing so a diverse mix of workers can live in areas of growth and are not forced out.
"Access to secure, appropriate and affordable housing is not only a basic requirement for everyone, it's critical to creating an inclusive, dynamic and sustainable city."
HCCDC Acting Chief Executive Valentina Misevska said that the creation of affordable housing in the CBD is a vital component of Newcastle's urban renewal, creating benefits for years to come.
"This project will help create the necessary diversity for a city to thrive, sitting perfectly alongside other urban renewal projects such as new public transport, employment opportunities and great public spaces," said Ms Misevska.
"We're proud to have partnered with Evolve to help create this fantastic outcome for Newcastle and its essential workers."
The properties will be leased through EchoRealty, Evolve Housing's profit-for-purpose real estate agency that specialises in affordable housing, and will be advertised on echorealty.com.au, realestate.com.au and domain.com.au.