Evolve Housing honoured at major western Sydney awards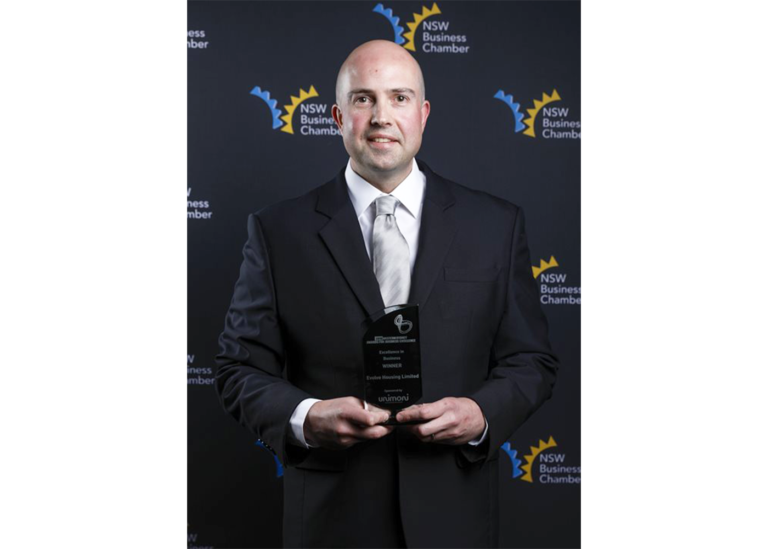 Evolve Housing has been recognised for its impact in the business sector in Greater Western Sydney, winning two awards at the Western Sydney Awards for Business Excellence (WSABE).
The WSABE Annual Awards Gala was held on Friday 13th September at Rosehill Gardens Racecourse in the presence of the Honourable Gladys Berejiklian MP, Premier of New South Wales, and Julia Finn MP who represented the NSW Opposition Leader, Jodi McKay MP.
Evolve Housing won the Unimoni Excellence in Business category, which recognises a business that has achieved significant growth and is able to demonstrate the specific strategies and processes implemented to achieve sustainable growth in the previous financial year.
It also took home the coveted Commonwealth Bank Business of the Year Award, which is conferred following vigorous assessment by WSABE's independent judging panel based on a consideration of each individual category winner.
Evolve Housing's not-for-profit real estate Echo Realty was selected as a finalist in the category of Excellence in Social Enterprise.
With offices in Parramatta and Penrith, Evolve Housing is one of NSW's largest community housing providers, managing more than 3,500 properties in the state and housing more than 7,500 residents, many living in western Sydney.
Evolve Housing CEO Lyall Gorman said that he was honoured to receive the awards.
"Everyone at Evolve Housing is incredibly proud and passionate of the work that we do to provide safe, secure and affordable housing for people who often feel locked out of the rental market, and we are humbled that our work has received recognition from WSABE," Mr Gorman said.
"We are especially thrilled to have received the Commonwealth Bank Business of the Year Award in a field of fierce competition representing different industries.
"Many positive effects can come from attaining housing, and the impact that we have been able to achieve together could not have come about without the hard work of our dedicated staff, who are devoted to our residents.
"We are very proud to be based in western Sydney and would like to thank the Parramatta Chamber of Commerce, WSABE judges, and other finalists for a wonderful evening that celebrated the achievements of businesses in the west".
Pictured: David Risbey, General Manager Developments Delivery, holding the Excellence in Business Award.