Evolve Housing shines at Australasian awards night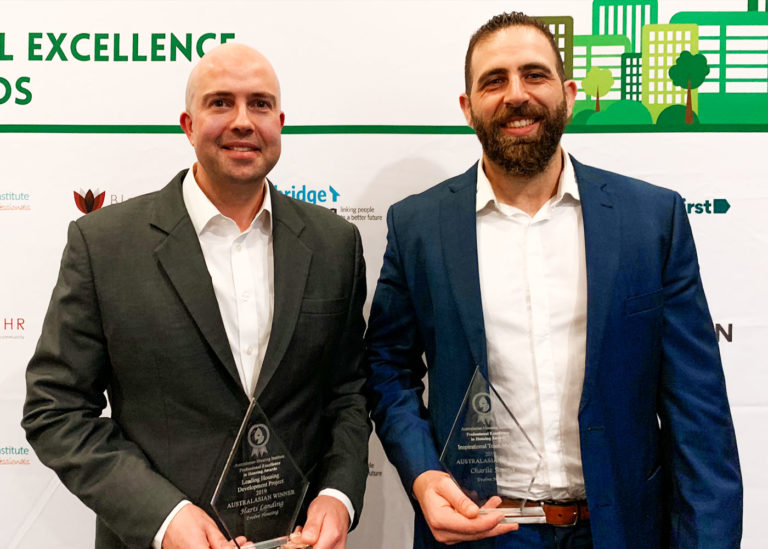 It was a night of celebration as Evolve Housing scooped up two prestigious awards at the Australasian Housing Institute Awards last night.
The annual event is considered the housing sector's premier awards night for Australia and New Zealand. The award success demonstrates both the individual skills of Evolve Housing staff as well as the organisation's success in creating high-quality social and affordable housing projects across NSW.
Echo Realty's Charlie Souma took home the award for Inspirational Team Member. The Penrith mixed-development property, Harts Landing, was presented with the Leading Housing Development Project award.
Charlie has helped to increase the supply of social and affordable housing in high-need areas through Echo Realty, a non-profit real estate agency that is a division of Evolve Housing. Joining Evolve Housing in 2009, Charlie worked in social housing for five years before being promoted to Senior Manager of the affordable and private market portfolio in 2014.
He took on extra responsibility in 2017 with the launch of Echo Realty, the first not-for-profit real estate in NSW, which he manages. Charlie plays a strong mentoring role to his team of eight staff as they work tirelessly towards Evolve Housing's goal of combatting Australia's shortage of affordable housing. Charlie and the Echo Real ty team now manage more than 1,000 properties.
Harts Landing, part of Landcom's Thornton Estate, is a landmark mixed tenure development that united the private and community housing sectors. The project aims to improve the lives of hundreds of people in Western Sydney. The 268 apartment development is made up of a mix of social, affordable and private apartments. The property consists of three buildings rising nine storeys, above a podium level of common areas, which all residents can access.
Evolve Housing CEO Lyall Gorman said the name of Charlie's award was an appropriate title.
"He truly is an inspirational team member and leader. He is a skilled, supportive leader who cares deeply about his team. Charlie is driven to help Australians find affordable, modern and appropriate homes and he develops and nurtures crucial business relationships that allow Evolve Housing and Echo Realty to expand out impact."
On the Harts Landing win, Lyall said the award will sit proudly among other trophies from ceremonies spanning the housing, design and property development sectors.
"We're thrilled with what we and our project partners PAYCE have been able to achieve, in collaboration with the Australian and NSW Government. The long list of visitors who request a guided tour at Harts Landing has also validated what we have achieved for our residents, so a formal award is a bonus for us."
The night highlighted the many outstanding projects and initiatives occurring throughout Australia and New Zealand. It also demonstrates the passion and commitment the sector has to providing social and affordable housing to our communities.
We proudly sponsored the fiercely contended Tenant Led Initiative Award. Congratulations to the SGCH Local Tenants Group and Annual Tenant Conference, who were awarded the prize.
This year's event was held in Darwin and follows the NSW and ACT awards, held in Sydney in July 2019, where Evolve Housing had three wins and a recommendation at. Read more.
Download the conference program, which provides summaries of all the finalists: http://bit.ly/AHIbrochure2019
Pictured (left to right): Evolve Housing General Manager Developments Delivery David Risbey and Echo Realty Senior Manager Charlie Souma, holding the awards.