Evolve Housing Wins at PowerHousing Australia National Awards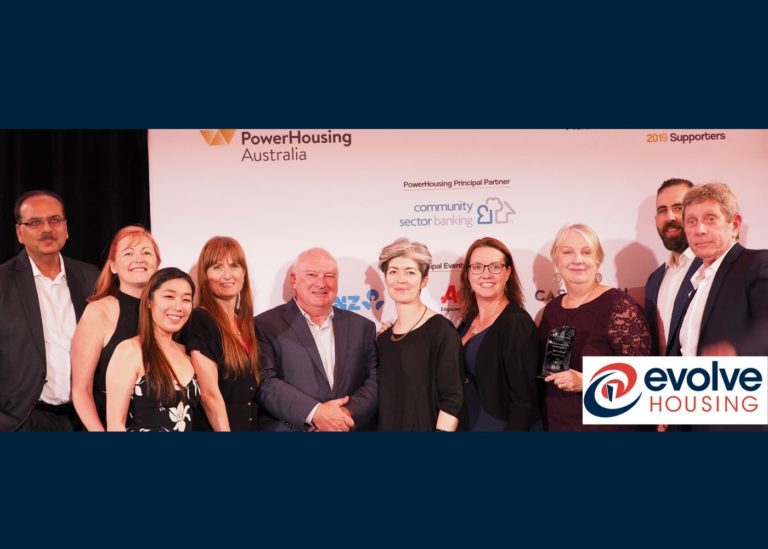 Evolve Housing has been recognised at the PowerHousing Australia National Awards.
The annual event is highly regarded in the community housing sector and Evolve Housing is honoured to have won the prestigious award for Project Leadership and Innovation for our Guildford development Tetris Village.
The project has been recognised for its revolutionary modular construction technology and mixed-tenure of cohorts that features 23 studio apartments for up to 36 residents and is entirely made up of social, affordable and youth housing options for people who are on very low to moderate incomes.
Tetris Village was built using groundbreaking modular construction technology, which involved building modules out of shipping containers off-site and lifting them into place over two days.
The process shaved an estimated three to four months off the construction timeline, allowing for the project to be completed incredibly fast – a factor that is especially important given the dire need for affordable accommodation in Western Sydney, where there is a 10-year social housing waitlist.
The project also includes another innovative feature: the inclusion of a secure, safe all-female floor for mature women aged 50 years and over who have come from a background of domestic and family violence.
Evolve Housing employee Madeleine was also recognised in the Rising Star category for her outstanding contribution to our organisation, receiving a high commendation at the awards.
The PowerHousing Australia National Awards showcases social housing successes and rewards excellence in professional practice. We thank PowerHousing Australia and congratulate the winners and finalists of each category.