Harts Landing awarded best affordable housing development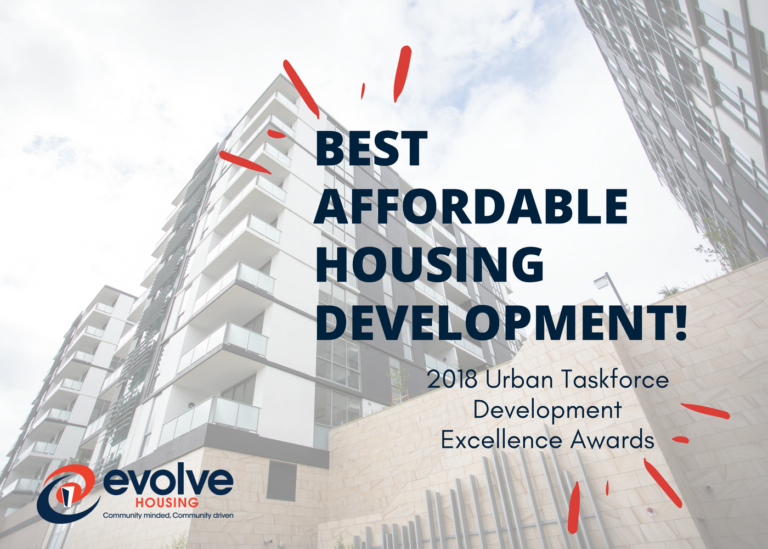 We are excited to announce that Evolve Housing and our development partner PAYCE have won the Affordable Housing Development award at last night's 2018 Urban Taskforce Development Excellence Awards presentation held in Sydney for our landmark development Harts Landing.
Harts Landing addresses the critical need for affordable housing in Western Sydney providing homes to over 500 people. The development consists of 128 affordable housing units, 10 social housing and 130 privately owned apartments.
Andrea Galloway Evolve Housing Managing Director and CEO said "We are honoured to receive this award with our partner PAYCE. At Evolve Housing we don't just build housing, we help empower residents to build communities by putting the right conditions in place. Affordable housing such as this, which is well located close to transport, jobs and amenities, provides a genuine stepping stone and a more secure pathway for those on lower incomes facing housing stress."
Over 40 of the affordable housing tenancies at Harts Landing have been provided to residents that are social housing eligible. That is 40 families, couples or single people that have been able to find an alternative pathway to social housing. In addition to this, many of the tenancies have been taken up by women escaping domestic violence, older people and families that were previously experiencing housing stress.
10 of the affordable housing properties in Harts Landing were sold to the Aboriginal Housing Office providing affordable housing choices for Aboriginal and Torres Strait Islander people.
At Evolve Housing everything we do centers around our vision and purpose of delivering housing solutions and support services that empower our residents on their journey to greater independence. Harts Landing is a clear example of thriving communities for ALL people.
Evolve housing has and will always recognise our responsibility to supply fit-for-purpose social and affordable housing, with the aim of increasing housing supply to match the diverse needs of households and support our residents to fully reach their goals and aspirations. We are proud to embrace and celebrate the vibrant diversity of our Evolve residents and look forward to further growing and strengthening our community.
The Urban Taskforce Excellence Award was the third major award for Harts Landing this month, having recently taken out two Silver Awards at the Sydney Design Awards for architecture and graphic design.