Award-winning Harts Landing is changing the way people think of community housing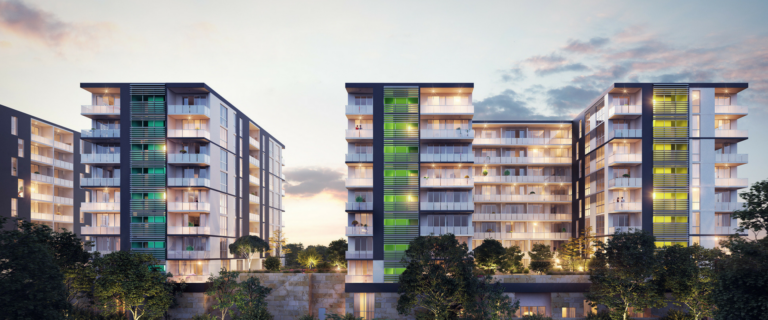 With a stylish design that seamlessly mixes social, affordable and private housing, Harts Landing is proving to be a game changer in community housing, racking up industry awards and attracting unprecedented demand.
Harts Landing is a landmark residential development in Penrith from Evolve Housing and PAYCE that has successfully created new private housing stock while also catering to the need for affordable housing.
Located conveniently right next to Penrith station, the development is mixed tenure and delivers 268 properties – 130 of these were sold on the private market, while 128 have become affordable housing and 10 have been rented as social housing.
Importantly, there is no distinction between the three types of residents in Harts Landing, and all have equal access to facilities, avoiding the stigma that can sometimes go hand in hand with community housing.
Construction commenced on Harts Landing in April 2016, and was completed in February 2018, an impressive four months ahead of schedule.
The development consists of three buildings, two of which are u-shaped, rising nine storeys above a podium level of common areas for residents to enjoy and two levels of car parking with 270 spaces.
All residents have the ability to use recreational facilities including beautiful landscaped gardens and BBQ areas, allowing people living in community housing access to high-quality amenities like any other tenant.
"We're seeing the social housing waitlist grow, in part because there is not enough affordable housing to assist those who are borderline and being placed into housing stress and homelessness due to the expensive rental market," said Evolve Housing CEO and Managing Director Andrea Galloway.
"This exceptional development is the result of innovative thinking about how to grow the supply of affordable housing within an integrated housing model."
The property was fully tenanted within eight weeks of being launched, and has since gone on to receive an amazing four industry awards.
Harts Landing won the Affordable Housing Development Award at the 2018 Urban Taskforce Development Excellence Awards in July, not long after netting two Silver Awards at the Sydney Design Awards for architecture and graphic design.
PAYCE and Evolve Housing also received a Highly Commended Award for Harts Landing in the category of Business Partnership at the PowerHousing Awards in August.
While the industry recognition has been exciting for everyone involved in the project, Andrea Galloway said that she was more proud of the fact that Harts Landing will provide life-changing opportunities for residents.
"At Evolve Housing, we don't just build housing, we help empower residents to build communities by putting the right conditions in place," she said.
"Affordable housing such as this, which is well located close to transport, jobs and amenities, provides a genuine stepping stone from social housing to private housing and has the capacity to break the cycle of intergenerational disadvantage."