Winners are grinners at top housing awards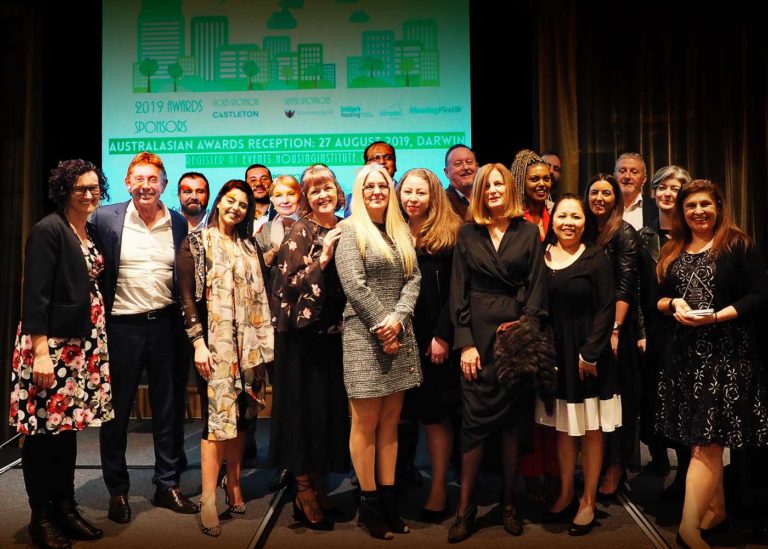 Evolve Housing has been recognised for its impact in the social housing sector, winning three awards at the state level of the Australasian Housing Institute Professional Excellence in Housing Awards.
Evolve Housing projects and team members were listed as finalists in six out of eight categories in the NSW awards ceremony, which was held at the Amora Jamison Hotel in Sydney on Thursday 4 July.
We received the Leading Housing Development award for Harts Landing, our landmark mixed tenure apartment building in Penrith, which provides much-needed community housing in western Sydney and is home to around 500 social, affordable and private residents.
Evolve Housing also received the Excellence in Social Housing award for our Personal Support Plans program, which streamlines the social support that our residents receive, and uses technology to track outcomes for continuous improvement.
Senior Manager Charlie Souma received the Inspirational Team Member award for the work he has accomplished with our not-for-profit real estate Echo Realty, which recently celebrated the milestone of managing 1,000 affordable properties.
Our Street Library project, designed to increase neighbourhood pride in one of our unit blocks in western Sydney, was noted as Highly Commended in the category of Tenant Led Initiative.
Evolve Housing's Guildford development Tetris Village was listed as a finalist in the Leading Innovation category while our Team Leader Resident Services Greg Locke was a finalist in the Outstanding Achievement category.
"I am very proud of such a spectacular result for Evolve Housing, and I think these achievements reflect the hard work, innovative thinking and passion that our staff members put into their work," CEO Lyall Gorman said.
"The common thread running through each of our nominations is the impact that our work has on our residents. We go above and beyond simply providing homes – we aim to enrich our residents' lives."
The three winning nominations have now progressed as finalists to the national AHI Professional Excellence in Housing Awards, which will be announced at the National Housing Conference in Darwin on August 27.
The AHI Awards showcase social housing success stories and reward excellence in professional practice across the community housing sector.